---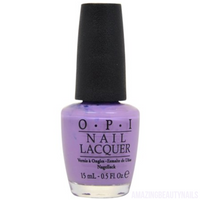 This product contains no formaldehyde, Toluene or DBP.

OPI is one of the most popular brands in professional nail polish. OPI is consistently featured in Allure, Cosmo, InStyle & People. They also partner with top brands and celebrities including Katy Perry, Disney, and tennis star Serena Williams. OPI polishes are long-lasting, chip resistant, and use a pro-wide brush for fast, smooth application.

Application Instructions: For best results first apply a base coat to clean, bare nails. Then apply 2-3 coats of colored polish (depending on its consistency and thickness). For long lasting wear finish with a top coat.

Size: 15ml
PLEASE NOTE: The colors you see are for reference only. Buyers are responsible to research actual polish colors due to possible differences caused by lightning, monitors. Please contact us if you need assistance about your purchase.