---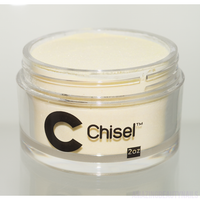 Get stronger, lightweight and natural long-lasting nails with our easy-to-use 2in1 Acrylic & Dipping powder.  
Size:  2 oz
Made in the USA
PLEASE NOTE: We strive to make our digital color swatches as accurate as possible to the actual product color but due to different monitor settings and electronic devices colors may differ slightly. Please contact us if you need assistance about your purchase.  
Chisel 2in1 Acrylic & Dipping powder lets nail artists create bright and colorful stamped nail designs.
Use with Chisel Nail Art 3D Stamps to cut special shapes and unique designs into uncured dipping powder.
To APPLY:
First, apply base coat to nail bed to give the dipping powder a strong foundation.
Then, apply dipping powder using a manicure brush or by dipping fingers directly into the powder.
Next, use a Chisel Nail Art Stamp to cut 3D designs into the uncured dipping powder.
Then, use top coat to give the color dipping powder and beautiful and shiny finish.
Last, apply activator to cure dipping powder and top coat.
Use multiple colors and multiple stamps to design original stamped nail art that your customers will love.